Our Products
Clarion Green Lubricants are precisely engineered for service in environmentally sensitive areas such as open water, inland waterways, ports, watersheds and forests. They can be safely used* in agriculture, dredging operations, fisheries, tugboats, cargo port operations, logging, mining operations, golf courses, onshore and offshore drilling and subsea robotic systems.
Clarion Green Synthetic Fluids and Clarion Green BIO products are formulated to meet Coast Guard Vessel General Permit (December 2013) requirements for Environmentally Acceptable Lubricants. The fully synthetic Clarion Green Synthetic Fluids and the high oleic natural ester formulated Clarion Green BIO products offer premium anti wear protection, rust and corrosion protection, and excellent thermal stability and low temperature properties.
Use Clarion Green Synthetic Fluids and Clarion Green BIO in accordance with equipment manufacturer recommendations. Fluid monitoring through LubeAlert CPM Analysis is recommended to maximize fluid service life. Moisture content should be maintained at less than 500 ppm. Improper system conversion and mixing with other lubricants may affect performance.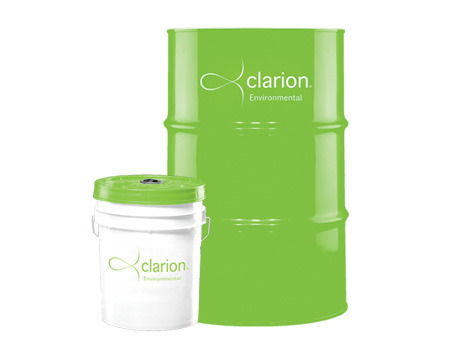 All Clarion Green Lubricants are non-toxic to aquatic life per U. S. EPA LC50 test requirements. Products include hydraulic fluids, gear lubricants, and grease. Product choices include readily biodegradable lubricants that comply with the December 19, 2013 U. S. Coast Guard Vessel General Permit.
All Clarion Lubricants are backed by the Clarion warranty. The Clarion Green product line incorporates the use of white mineral oils.
Synthetic Lubricants
Clarion provides Material Safety Data Sheets (for viewing and/or printing) on all commercially available products.  Click on the links to find valuable safety information on a specific Clarion product line.