Quick Guide to Food Grade Lubricants
An easy-to-follow overview of how Clarion Food Grade Lubricants can help you protect your equipment, this Quick Guide will walk you through how to minimize risk of contamination and optimize performance.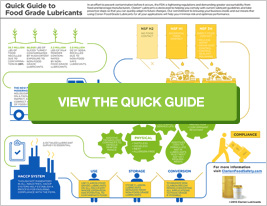 * Please note that it is the Buyer's responsibility to ensure product selection meets all application requirements, including OEM recommendations as well as maintenance history and conditions. Buyer is also required to ensure that product selection meets any and all appropriate federal, state and local codes and requirements.
* Additionally, it is the Buyer's responsibility to properly verify all operating conditions and environment prior to product application. Furthermore, it is recommended that Buyer ensure continuing product performance through the use of ongoing site surveys and condition monitoring programs.
Our line of Food Grade products includes white mineral oils, hydraulic fluids, greases, synthetics and specialty lubricants.