Clarion® FM Spray Grease
Description
Clarion FM Spray Grease is an NSF H1 grease packaged with propellant in an aerosol container. This provides a convenient means of application for incidental contact grease lubrication applications. Clarion FM Spray Grease is NSF H-1 registered and meets FDA 21CFR 178.3570 requirements for incidental food contact lubricants.

Clarion FM Spray Grease offers:
- Excellent resistance to water washout
- Antiwear and extreme pressure (EP) protection
- Pressure separation resistance
- Excellent rust and corrosion protection
- Very good compatibility with common food grade greases

Note: Available through ground transportation only.
DANGER: Extremely flammable aerosol. Please refer to SDS for proper transport, storage and handling. Always check with local jurisdictions for warehouse requirements.

Specifications

SDS Sheet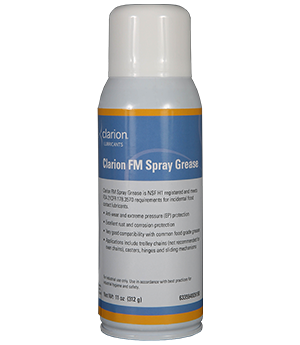 Clarion Lubricants offers a wide array of food grade and environmental lubricants. Not sure which are right for your operation? We have experts who can help.